IDPs Support: Distribution of Summer Aid Supplies to IDPs in Baharka
Duration: May 2021-June 2021
Location: Baharka, Erbil
Total Beneficiaries: 300 IDP families which averages to 1,500 individuals
As part of PGDO's summer aid supplies distribution program, PGDO's team distributed summer blankets to IDP low-income families; hence, around 300 families in Baharka, Erbil benefitted from the above-mentioned. Worth stated that this intervention was accompanied by studying and assessing the living conditions of these vulnerable communities as well as documenting their escalating needs.
Al Rajaa Charity House Support: Distribution of Summer Aid Supplies to Elders
Duration: July 2021
Location: Erbil
Total Beneficiaries: 30 elders
PGDO allocated an aid support program for the elderly in Al Rajaa Charity House. The organization's team spent a whole day in which they distributed summer blankets. The activity also entailed listening to the challenges and needs of the elders. Worth mentioning that PGDO organized entertainment activities and events such as games, songs, dances, health tips, conversations, and so on.
Orphanage Support: Distribution of Clothes
Duration: July 2021-August 2021
Location: Erbil
Total Beneficiaries: 450 orphans
PGDO provided clothes for all 450 orphans at the orphanage in Erbil to draw a smile on their faces and bring joy to their hearts. This intervention included the distribution of clothes in different sizes, colors and, designs for boys and girls of different ages.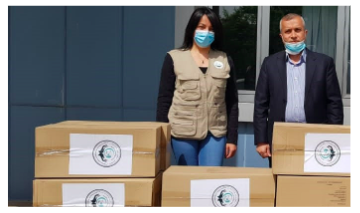 Community Outreach & Awareness on Illegal Immigration
Duration: September 2021-December 2021
Location: Telsqof, Nineveh
Total Beneficiaries: 1,500 men, women, and youth
The local communities of Iraq are often not aware of the dangers and consequences of illegal immigration due to their lack of knowledge, fake news, and hearsay about illegal border crossing highlighting irregular immigration as an easier and more attractive process compared to regular migration. Therefore, PGDO initiatives awareness sessions on illegal immigration, reaching out to almost 1,500 men, women, and youth in the local communities of Telsqof helping to increase their general knowledge on illegal immigration and exploitation, accompanying tragic incidents claiming the exploitation of smuggling and human trafficking, actions of smugglers, traffickers and harsh conditions of the irregular and precarious migration routes crossing the desert and the sea. The intervention entailed the distribution of brochures and pamphlets in public spaces and the hanging of posters to disseminate useful information and content about illegal immigration that will support in inspiring the communities to change their public opinion, attitudes, behaviors, and practices concerning illegal immigration.

Equipping Schools with Winter Heating Supplies in Telsqof
Duration: December 2021
Location: Telsqof, Nineveh
Total Beneficiaries: 640 students, teachers, and admin staff
To respond to the lack of fuel and adequate heating facilities, PGDO organized an activity that entailed distributing heaters to two primary schools: Primary School for Girls and another for Boys in Telsqof, reaching around 640 individuals in schools including students, teachers, and admin staff. The main objective of PGDO's intervention was to help two disadvantaged schools in Telsqof since the provision of a proper indoor positively enhances the educational process and improves attendance as well as the learning conditions for children. PGDO provided 150 heaters in two primary schools which improved the school facilities and learning environment for children while giving them hope for education and a better brighter future.