Educational Supplies Support to Schools in Mosul
Duration: January 2019
Location: Mosul
Total Beneficiaries: 500 students & 250 caregivers
PGDO equipped 20 schools in Mosul with furniture such as bookshelves, chairs, and tables. In addition, the organization made sure to provide school supplies and materials for 500 students including colored pencils, drawing pads, rubbers, pencils, pens, and papers. These distributions fostered a positive and trustful relationship among the students and the school as a whole. In addition, awareness sessions were performed for 250 caregivers to enhance their knowledge regarding the importance of their children returning to school and attaining an adequate education journey.

Provision of Mental Health & Psychosocial Support to Children Post Conflict
Duration: January 2019-December 2019
Location: Mosul
Donor/Partner: EliseCare
Total Beneficiaries: 700 children
With the support of EliseCare Organization, PGDO implemented a protection project which entailed providing mental health and psychosocial support to more than 700 children affected by post-conflict. The MHPSS sessions entailed a wide range of interactive and participatory activities that supported the reintegration of these children into their communities. The main objective of this intervention was to enhance the children's well-being and allow them to become socially engaged.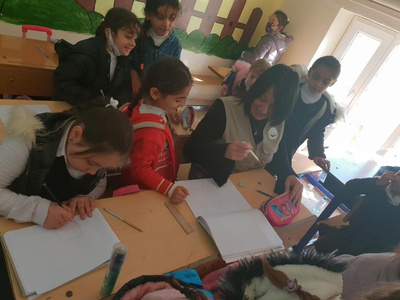 Social Cohesion & Interconnection between Youth of Different Religions in Mosul
Duration: March 2019-May 2019
Location: Mosul
Total Beneficiaries: 300 youths
For enhancing social cohesion and interconnection, PGDO organized monthly meetings and activities with 300 male and female youth of ages ranging between 18 and 25 years and of different religions, such as Christians, Muslims, and Yezidis in Mosul. These interventions entailed awareness sessions, discussion panels, and visits to religious sites along with diverse religious leaders. Hence, these actions supported introducing the new generations to a strengthened understanding of other religions and reduced intolerance of social differences. The following resulted in enhanced mutual understanding and respect between diverse groups which in turn led to social cohesion. Moreover, the organization distributed gift items to these youth as reminder souvenirs of peace.
Discussions and Visits to Religious Sites in Nineveh
Duration: May 2019-July 2019
Location: Nineveh
Total Beneficiaries: 500 men, women, and youth
PGDO conducted various discussions and dialogue sessions with 500 individuals segregated into groups that are composed of Christians, Muslims, and Yezidis. This intervention possessed a very crucial objective which highlights identifying and implementing ways and practices that promote peaceful coexistence among different religions in Nineveh. These discussions took place between groups of Christians, Muslims, and Yazidis. In addition, these groups performed visits to churches, mosques, and monasteries which allowed them to gain further insight into other religions and the similarities that tend to exist. These activities ensured a clear understanding of these three religions; thus, guaranteeing mutual understanding, respect, and tolerance between diverse groups. Noting here that the activities aimed to erase false prejudgements, extremism, and violence against these individuals of different religions.